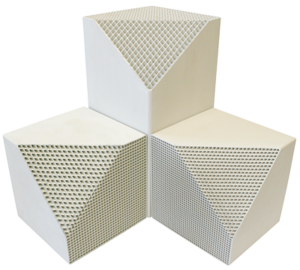 Lexco provides products and design services for Regenerative Thermal Oxidizer Systems (RTOs). We are a worldwide distributor of RTO media, offering exclusive distribution of the Ceram brand of ceramic heat exchange media manufactured by Ibiden Porzellanfabrik Frauenthal GmbH.
Lexco and Ceram were pioneers in supplying high performance ceramic monoliths for RTOs. We have more heat exchange monolith installed in the Americas, Europe and Asia than any other ceramic monolith supplier. We are Ceram's oldest and most experienced distributor.
Lexco supplies a wide variety of RTO media, including ceramic structured packing (monoliths) as well as saddles.

The Structured Media Advantage:
Monoliths vs. Random Packing for RTOs
Lexco supplies both monolith media as well as packing (saddles) for heat storage. We helped pioneer structured media because it provides two large advantages over random packing: maximum heat recovery and loss pressure loss.
Design Services
Lexco can help you design a more efficient RTO.